Nine roasters from all over Europe joined us for this exciting challenge, with a few late entrants who cajoled the judges into letting them in on the fun. The prize had to be good in order to coax so many great cuppers away from the RAI Amsterdam to the considerably more stylish surrounds of the La Cabra pop up cafe. And it was an awesome prize indeed: an exclusive LPET Fermentation Pack from our friends La Palma y El Tucán.
The competition had three rounds:
1. Tasting
Cuppers were presented with the four coffees that were part of the competition and given a chance to get to know the fermentation profiles:
Geisha Acetic
Sidra Natural
Typica Honey
Sidra Lactic

2. Triangulation
It was all-in for Round 2, with nine cuppers at the table at once. They all had ten minutes, but time mattered, and the fastest cuppers would move on to the finals. Nikko from Andante in Helsinki, Finland, flew through to the finals, while Tomas of Rebel Bean in Brno, Czech Republic, earned his place with a stellar time.
3. Fermentation
In this final round Tomas and Nikko had to identify the fermentation method of the coffees: Acetic, Natural, Honey or Lactic. An informal round followed, as the cuppers gathered at the table to compare their thoughts with the selections of the finalists.
 
The winner:
Despite Nikko's prowess in the triangulation, it was Tomas of Rebel Bean who won the day! In a lightning quick time of 48 seconds, Tomas correctly identified two of the four fermentation methods. He left Amsterdam with a bag 4kg heavier than when he arrived. We can't wait to see what Rebel Bean do with these exclusive coffees.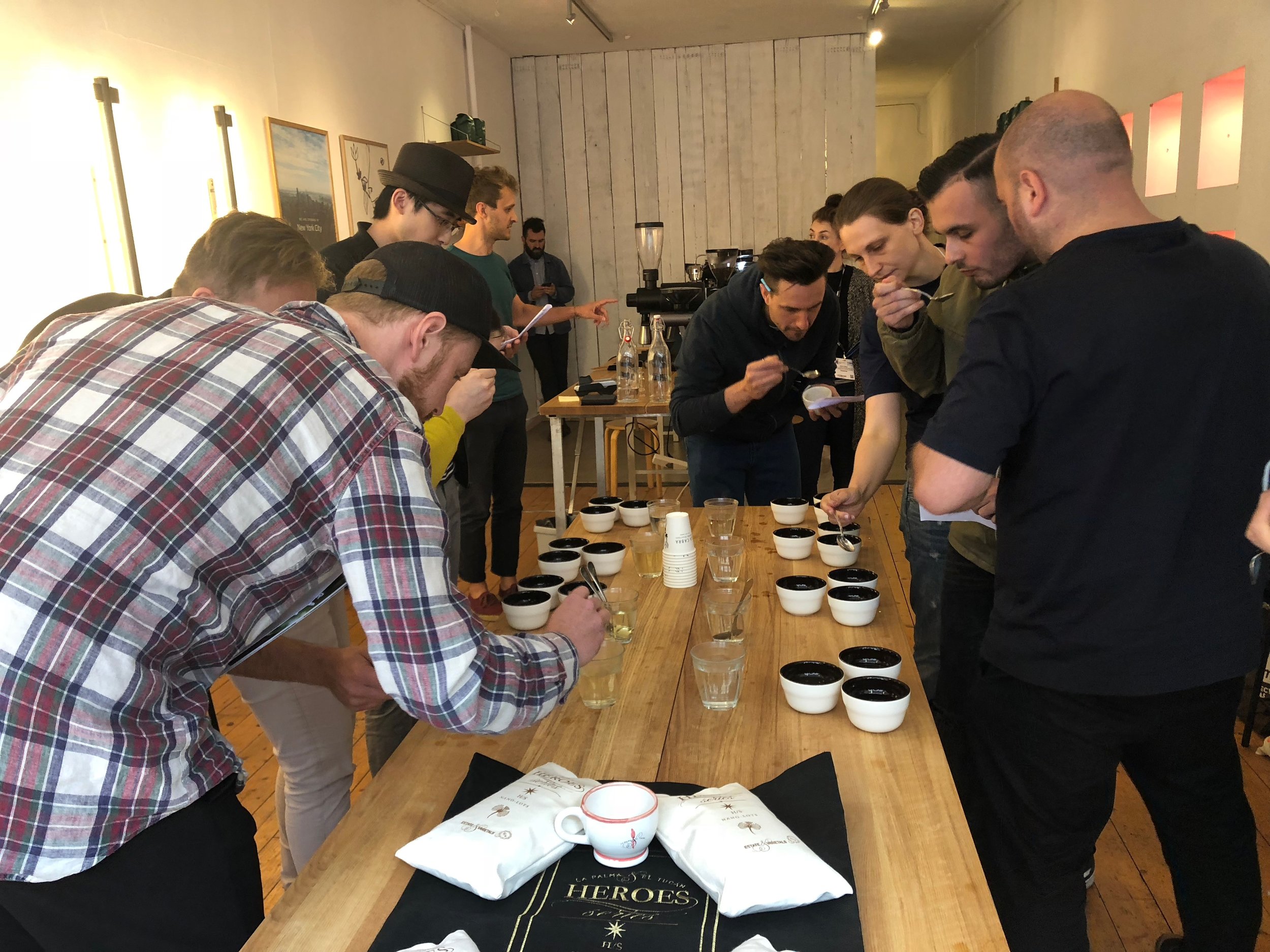 An enormous thank you to all who came for this fun event, and an extra special hug for La Cabra who provided the perfect venue. It was an ideal space, away from the craziness of the Roasters Village, to appreciate great coffee (and hear each other speak).
 
How to get your hands on these coffees
Want to know how these innovative processing methods affect the cup? Looking for a unique coffee for your next competition? Check out our Competition Coffees page on Cropster Hub, and read this guide on buying greens for competition.